Centaur Equinecisers / Horse Exercisers
Horse Exercisers
---
The Equineciser horse walker allows the horse to exercise untethered between moving gates, so he can move in a more natural manner, with his head free.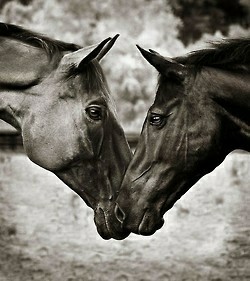 Equineciser Free Flow Horse Exercisers
The Equineciser horse exerciser offers an advantage over earlier versions of this type of device: hot walking machines and typical horse walkers. The older style of hot walker required the horse to be tied to an arm of the walker. If a horse-pulled back or balked on one of these walkers, he could receive a neck injury. The machines were designed to go at one speed only, for the walk, so they were not suitable for sport conditioning.
The Equineciser horse walker allows the horse to exercise untethered between moving gates, so he can move in a more natural manner, with his head free. A carousel rotates the six gates that provide individual compartments for six horses to exercise and walk freely. There is a distance of 34 feet between each gate, so the horse has plenty of room. When allowed to manage his own speed, a horse will go a little slower at times and a little faster at times. The free flow horse exerciser allows for this natural regulation of energy expenditure, resulting in a more comfortable exercise session.
The Centaur Horse Equineciser can go from 0 to 32 miles per hour, allowing the horse to exercise at all speeds, including the walk, trot, jog, and gallop in both directions. The horse moves between outer and inner fences that are set in concentric circles. The outside fence forms a circle with a diameter of 68 feet. As the horse travels the circle, the footing banks against the outside fence. The faster he goes, the more the surface banks, so limb loading remains even. This is the contrast to lunging in the arena, where the surface is flat, the circle is small, and considerable-torquing force is placed on the limbs. The centrifugal forces are more like those on a racetrack and help the racehorse adapt to that strain. The Exerciser offers an advantage over the high-speed treadmill in that it provides the opportunity to train around a curve, rather than continuously going in a straight line. This might help in the adaptation of the cannon bones to the compressive forces of running around the turn on a track-like-surface in a way that is impossible to achieve on a treadmill.
Horse exercisers can be built with or without a roof, but the roof provides protection from bad weather. Whether the exerciser has a roof or not, the surface is a primary concern so that footing remains good and injuries from bad footing are avoided.
Equineciser horse walkers have been tried on a variety of surfaces, and some have proven better than others:
Sand will compact and become too hard. Sand also freezes and does not break up easily. Frozen footprints in the sand create a choppy surface.
Wood chips placed on top of sand do not create a satisfactory surface.
Shredded rubber provides a resilient surface, but is unsatisfactory when placed over sand. Also in hotter climates, the rubber retains too much heat and burns the horse's hooves.
Using the Horse Exerciser
Planning your use of the horse exerciser will follow the same guidelines that you would use for any new equestrian training equipment or training technique. The first time your horse goes in the exerciser the goal is to acclimate him to the equipment. Walk the horse until he is comfortable, usually 15 to 20 minutes. 95% of horses take to the exerciser with no problem during the first session. The technique is to put the horse in, release him, and then turn on the exerciser at walking speed. On the first day of using the exerciser with your horse, do not walk him until he is tired.
The goal of the first few sessions is simply to give the horse an opportunity to be comfortable in the exerciser. Horsemanship is still needed to use this equipment for the benefit of the horse. Observation and attention to the task are necessary just as these skills are in any other training program.
Once the horse has become accustomed to walking in the exerciser, plan a gradually increasing program that is based on the fitness goals for each individual horse. Is your goal to maintain the fitness level reached during the summer? Is it to rehabilitate from an injury during the competitive off-season? Is it to increase the horse's knowledge of new tasks and environments? Plan your training bouts to increase in duration and intensity gradually. Do not try to accomplish all your fitness goals at once.
Using What's at Hand
You don't have an indoor exercise facility? You still should be concerned about the surface on which you train when the weather leaves footing unsafe, choppy or frozen. If a training path around your paddock is the route you follow, the minimum investment would be to improve the drainage by grading it to a one-degree slope under a surface such as those mentioned above- one that will break up easily when the temperature is below freezing. Do not turn horses loose in the training paddock as they will dig holes in your surface and destroy it.
A Safe surface is essential for any training program in the winter so the horse will not lose muscle and cardiovascular conditioning. Injuries to both horse and rider can occur on a slick surface. A surface that is frozen and will not break up promotes sore feet and injuries to joints.
Training for any equine sport requires rapid changes of direction, increases in speed, or negotiating jumps and concussion of the foot on the ground. A surface that provides adequate traction and cushion for your particular equine sport is the ideal surface.
Standard Horse Exerciser
Replaces Old-Style Hot Walking Machines
Eliminates the Need for Hand Walking
Keep your stallions in shape for the breeding season. Excellent for conditioning horses for sales, from weanlings on up. Condition two-year-olds prior to sending them into training. Exercise broodmares for their health as well as the health of their unborn foals. The EQUINECISER can also be used for warming horses up prior to exercise and cooling down after exercise. Horses can be placed into the FREE FLOW™ wearing complete Bitting Rigs to aid in their development.
Free Flow Equinecisers
Custom Diameters Available
Programmable Controllers
Heaviest Duty Gearbox in the Industry
Not a chain or belt driven drive
Machine goes 0 to 32 m.p.h in 30 seconds
5 Year Warranty on Drive System
12 year on steel structure
2 year on control box
1 year on electrical componetts
The FREE FLOW™ EQUINECISER comes with a variable speed, reversible drive control that will allow the EQUINECISER to go from a slow walk up to a slow gallop and enables the exercising of 3, 4, 5 or 6 horses at one time. The horses exercise untethered between moving gates spanning thirty-one feet. These hinged gates move in between two round fences that are eight feet apart.
Centaur can do all the necessary electrical and concrete work for the Equineciser, to save the extra charge, the machines can be installed by the purchasers and wired by their own electrician. CENTAUR HORSE WALKERS, INC., Provides plans for the concrete pad on which the base of the EQUINECISER is bolted plus complete installation instructions. You can either have us install the fence panels, or you may do it yourself. You can purchase the FREE FLOW™ unit without the fences if you like, or we can custom design fences for you, other than what we offer.
Models:

300FF (3 Horse), 400FF (4 Horse), 500FF (5 Horse), 600FF (6 Horse), 700FF (7 Horse), 800FF (8 Horse)

Working Diameter:

40 to 80 ft depending on choice of model.  Customized Diameters available – of any diameter needed, for example 41, 42, 43, etc – all the way up to 80 ft.

Speeds:

Remote Controlled 0 MPH to 32 MPH, Forward and Reverse.

Arms & Mast:

Square Structural, seamless tubing. No cables to support each arm.
Arm Height is 8 ft from the ground.
Arm Radius is 20 to 40 ft depending on choice of model.
Working width for horse is 8ft.
Length distance is 32 ft, minimum, between individual moving screens, based on model & diameter.

Power Drive System:

All Equinecisers are equipped with a NORD manufactured 3 hp direct drive electrical motor to a speed reduction gearbox. Motors are hi-torque, heavy-duty, thermally protected with auto-reset rated at 40,000 pounds. The unit requires a power input of 220-volt single phase.

Your breaker panel must have 2 – 20 amp double pull (for the 220V input) or a single 30 amp breaker with 2-15 double pull breakers & 1 – 20 amp single pull for your Equineciser to work correctly. The power input to the exerciser cannot exceed 125 feet from the center of the exerciser to your power breaker panel. If it is further away you will need to install a subpanel to get it closer to the exerciser so the computer drive will work properly. The control panel must be mounted within 2 feet of the outside fence by any service entry gate. Solar energy cannot be used to power your Equineciser.

Remote Controller:

All of the Equinecisers come with a remote control with a directional control switch, for forward and reverse and an emergency safety stop switch. This system is mounted by an outside gate panel for convenience.

Exerciser Finish:

The exterior cover of the exerciser, head and arms of the exerciser are all powder coated. Arm screens are not painted but are galvanized to permit the screen electrical charger to work. All the fencing panels are galvanized but can be powder coated as an optional upgrade.

Enclosure Panels:

Standard is 7 ft tall, and 6 ft long outside panels, inside panels, are 7 ft tall and 6 ft long. Galvanized welded wire, which is welded to panel frame, and is 6 ft in height, and latches on each gate panel. The framework is 1 7/8″ round galvanized steel pipe. Gate panels have a 5 ft opening. All panels come with 6 horizontal galvanized 1 7/8 inch steel pipe, with 360-degree welds ( no pinched end welds. The remainder of panel opening is filled with a horizontal bar so horse cannot put head through any part of each fence panel.

Fence Finishing:

The standard steel framework of the fence panels comes galvanized. The framework is of round tubing, with welded wire attached, on the lower 6 feet.
New curved fencing option offers curved sections of 8 ft long and 7 ft high.

Exerciser
Options :

Programmable programs.
Rubber-lined belting on each panel to retain footing in the exercising path (2, 3, 4 ft in height).
Rubber lined panels on the lower 2 feet attached to each panel for soil retention.
Radius Fencing galvanized or painted (powder coated).


Panel Options:


Lower 4′ X 8′ section solid steel, or steel & wood laminated, or wood (2″ x 6″ boards), or extruded white or tan PVC 2″ X 6″ panels inserted into steel framework, or T1-11 & steel laminated.
We offer an optional wood panel consisting of 2′ X 6′ dried clear pine wood, to a height of 6′.
All panels can be lined with rubber matting (2, 3 or 4 ft) on the lower 2 ½ feet, to aid in soil retention horse safety from kicking.
Optional wood panel wood is framed in our standard size of 7' tall and 6'  long to a height of either 4' or 5' with the remaning opening having a horizontal bar installed for the horses' safety.
We also make a panel that has a baked on color to a steel exterior, a plywood core and a galvanized steel interior , next to the horse with horizontal bars placed to 7' in height. All these upgrades can have rubberized panels attached to each panel for longer longivity of each of the panels. Height can be 2, 3, or 4'.
3 Horse Exerciser
Centaur's 3 Horse Exerciser is available with heavy duty galvanized steel pipe up to 50 foot diameter. Many color and roofing options are available.
Below is our 3 Horse 55 foot diameter Equineciser with standard galvanized fencing package (call for pricing). Horses run, walk, trot, canter in an 8 foot wide area, from screen to screen is 54' in length on the exerciser pictured below.
4 Horse Exerciser
The Centaur 4 Horse Equineciser is available in 50 foot diameter and up to 80 feet if desired with standard galvanized fencing package. Horses run, walk, trot, canter in an 8 foot wide area. Several color and roofing options available.
5 Horse Exerciser
Centaur's 5 Horse Equineciser comes equipped with a 60 foot diameter and standard galvanized fencing package. Horses run, walk, trot, canter in an 8 foot wide area. Many color and roofing options are available.
6 Horse Exerciser
The Centaur 6 Horse Equineciser comes in 68 foot diameter with standard galvanized fencing package. Horses run, walk, trot, canter in an 8 foot wide area. Many color and roofing options are available.
7 Horse Exerciser
New to the Centaur stable of Free Flow Horse Exercisers is the 7 Horse Equineciser. Like all other Equineciser models, it comes with or without fencing option, and is 70′ in diameter.
8 Horse Exerciser
New to the Centaur stable of Free Flow Horse Exercisers is the 8 Horse Equineciser. Like all other Equineciser models, it comes with or without fencing option and is 80′ in diameter.
Installation Diagrams
Download the Installation Diagrams for the product you are purchasing! Includes, Concrete & Electrical Diagrams.