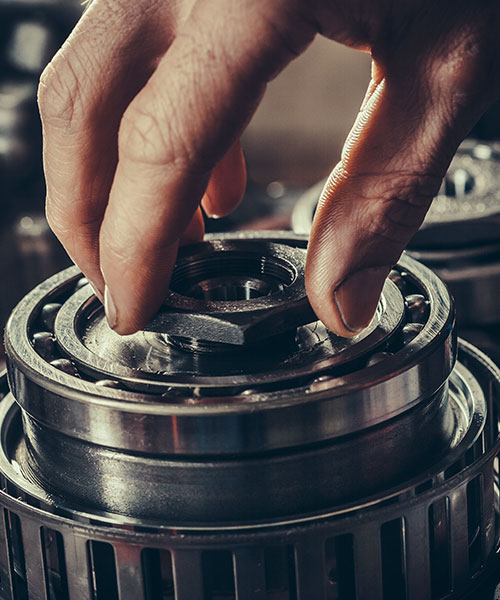 Centaur uses the heaviest duty gearbox in the Industry!
According to recent data, Centaur uses the heaviest duty gearbox in the Industry! Not only is the Nord gearbox the heaviest duty in the industry, it also one of the most reliable and dependable on the market.
We only use Nord gearboxes, with Nord motors. By using the same manufacturer for both the motor and gearbox, we avoid all the those little bugs and/or glitches, that can happen when you try to mate two different manufacturers' products together. Nord's gearboxes and motors are designed to work together, making a safer, stronger and more reliable product.
Below is why Centaur chose Nord, over all the other gearbox and motor manufacturers in the world, to go into our Equinecisers.
UNICASE™
NORD heavy-duty, one-piece housings are precisely machined to exacting standards. Internal reinforcements further increase strength and rigidity. All bearings and seal seats are contained within the casting, eliminating splits or bolt-on carriers that can weaken the housing and allow oil leakage. Bores and mounting faces are machined in one step, producing extremely precise tolerances – thus ensuring accurate positioning of gear teeth, bearings and seals, and longer life for all components.
No leaks! Seals and shafts operate without pumping oil
Quiet operation
High output torque capabilities
Extended lubrication life
Longer gear and bearing life
Superior dependability/low maintenance/longer life
FACTORY OIL-FILLED
Oil fill before shipping prevents damage from dry start-ups.
No need for filling onsite
Ensures proper oil grade and fill level
QUADRILIP™ SEALING
Three seal lips plus a grease-filled chamber between the seals! Protects inner oil seal-lip from damage and external contamination. High-quality seals and garter springs guarantee tight chucking around smooth, plunge-ground shaft surfaces. NORD's precise machining and careful assembly guarantees long, trouble-free operation.
No leaks – seals' OD/ID are concentric and will not pump oil.
Longer shaft life: grease lubricates seal surface and separates it from the shaft with .0001″ oil-film barrier
Longer-lasting seals, cleaner gearbox oil
HIGH PERFORMANCE MOTORS AND BRAKEMOTORS
NORD motors are designed to run cool for longer service life. Low rotor inertia and high starting torque allow peak performance in the most difficult applications for inverter and vector duty per NEMA MG 1-1998 Section 31.4.4.2 voltage spikes. Our motors are internationally accepted, conforming to North American NEMA MG 1 and international IEC electrical specifications. High performance options include brakes, encoders, and forced cooling fans.
Inverter/Vector Duty
Compact, energy-efficient designs
Long service life High start-stop capacity
US/Canadian/International voltages and frequencies
AUTOVENT
Prevents bearing damage by impeding entry of foreign material (water, dust, corrosives, etc.) through breather plugs. Ball-and-spring check valve opens at 2 psi during operation and closes tightly when gearbox cools, producing a slightly negative pressure that keeps the valve seal tight. Keeps water out of oil to maintain viscosity and prevent contamination, foaming and oxidation. A brass canopy protects valve elements – perfect for humid conditions, washdown applications, and dusty environments
Cleaner gearbox oil
Extended lubrication life
Longer-lasting seals, gears, and bearings
HIGH-QUALITY GEARING
Essential to low noise, low maintenance, and high durability!
Designed and manufactured up to AGMA CLASS 13 standards.
8620 case-hardened steel
Exceptional hardness: 58 Rc minimum
High-speed gears are ground; low-speed gears skive hobbed
275% momentary overload capacity
HIGH-STRENGTH GEAR CASES
All NORD gear housings are made for maximum torque delivery.
Thick housing wall cross-sections
Torsionally stiff
Holds shaft centers
Interiors painted to seal manufacture residue
STAINLESS STEEL PAINT
The standard NORD protective finish – not really a paint, but a resin with 316 stainless steel.
40% greater impact resistance
Tough industrial primer
USDA approved for food processing (incidental contact)
ENERGY EFFICIENCY
Lowering your operating costs is one of our greatest goals! NORD research and development focuses on energy efficiency, with gearboxes, motors, and frequency inverters designed for lower energy consumption. Our fully diverse line of in-line or right angle units and motors has been developed to suit your needs.